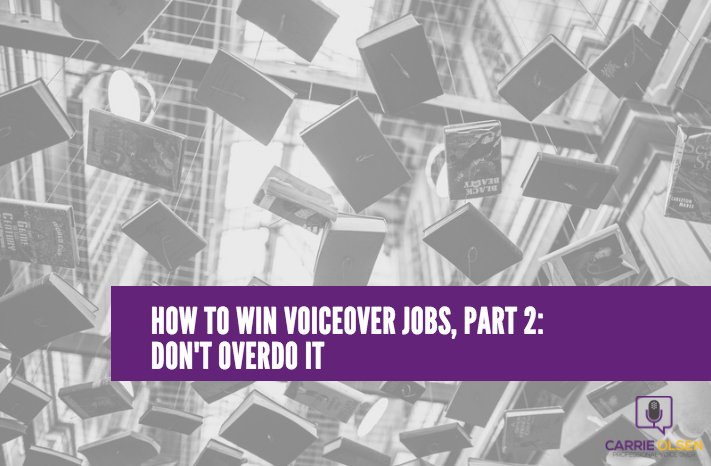 How to win voiceover jobs part 2: Don't overdo it
Becoming a successful voice actor isn't easy, but putting unnecessary extra time and energy into auditions doesn't always result in more jobs. You need to give it your best effort and remember that a more relaxed approach sometimes leads to a more impressive performance. Here are some tips to land your next gig by stepping back and letting things flow.
Don't Over-Rehearse
Few voice artists want to record an audition cold, yet reading it through too many times can make the text sound robotic. You'll be in your own head if you get too obsessed with getting it right, and it will show in the recording. To keep it fresh, step back from the audition text and return to it with a new frame of mind.
Don't Get Too Stuck on Punctuation
It's important to respect the client by adhering closely to the script, but don't get so obsessed with accuracy that you forget to bring emotion to the read. Like any actor presented with a script, you want to
demonstrate your ability to bring the words to life
in a way that impresses on tape.
Don't be afraid to read a period as if it's a semicolon or comma, especially if it flows with the character you're choosing to create. You may surprise yourself at how allowing genuine feelings to come through has a lasting effect; always leave room for those surprises.
Don't Obsess Over Client Expectations
You don't know what the client is looking for in your read. Playing that guessing game, especially when it goes against your strengths and instincts as a performer, will not only drive you crazy — it won't necessarily get you the job. Bring your own take to the read. After all, they wouldn't have asked you to audition if you sounded like everyone else.
Don't Record Too Many Auditions
Like any actor, you have to try out for many roles to find the best work. Yet to avoid reaching the point of diminishing returns, make sure you focus on the auditions that are a good match for your voice. You'll get better results overall and you'll make it easier to
develop your personal brand as a voice artist
.
Do Visualize the Scene
Your read is better the more you can immerse yourself into the scene. But it's not always possible to create a recording environment that lets you fully imagine the world of your audition script. In your prep time between auditions, develop a few go-to characters that will help you enter the mindset of a particular type of read. It will save you time and give you a few more skills you can present on a moment's notice.
Do Trust Your Instincts
You are a professional voice artist, so you know what makes a strong recording. You won't know what's in the minds of casting agents when they send out a call for auditions; therefore, use your training and instincts to bring the right emotion and intonation to your performance. Being true to your own interpretation of the script will make things even easier when you get the job.
Do Have Fun
There's an old saying that you should smile when you're on the phone, because the smile will come through in your voice. The same is true with voiceover work. If you're not having fun, you can bet the casting agent will notice. Even a dramatic and sorrowful scene is enhanced when the actor is engaged with the text.
Do Let It Go
You've done your best and sent off the audition. Now let it go! Remember that you can't change it now, and agonizing over your performance won't help. Always keep moving forward — the next audition is just around the corner.
Make It Habit
When you're auditioning, there is a lot to keep in your head all at once. So I made a quick checklist version of this post that you can keep near while you're auditioning to help you make awesome auditioning habits.