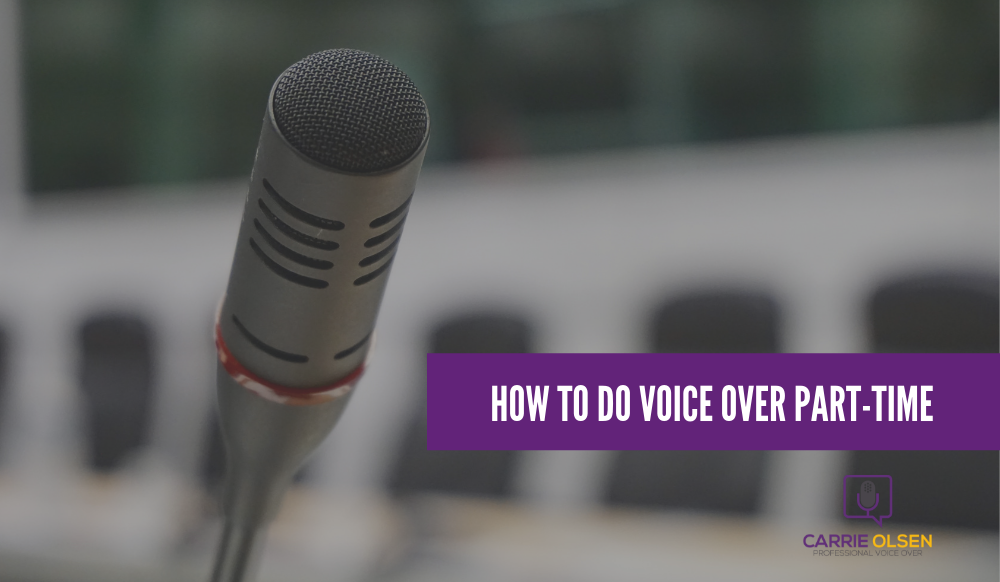 How to do voice over part-time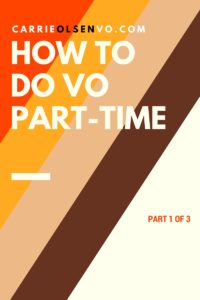 I sent out a poll last month asking what would be the most helpful thing for you to read about on the blog next. I was surprised to hear that what you most want to hear about is how to do voiceover part-time. So let's talk about that. How do you become a chef part-time? How do you become a graphic designer part-time? In simple terms, the only difference between a part-time job and a full-time job is that when you're working part-time, you do less work. So it's an issue of controlling your volume of work. Ideally, you could turn on and shut off the flow of clients to create your perfect situation. Want to be full-time? Cool, turn the lever to let more clients through. Want to be part-time? Easy. Crank the lever the other way to slow the flow of clients. And technically, that is the way it works. But as most freelancers will tell you, it isn't that easy in practice. In fact, there are a lot of voice actors out there who are working part-time out of necessity. They just can't seem to get enough regular work to fill up a work week. And on the other hand, there are voice actors who have turned down clients or raised their rates because they have so much work, they can afford to be choosey about who they work with. So I want to break this down for you and paint a clear picture of what it takes to do voiceover part-time. But first, let's talk about the reason why you might want to do VO part-time in the first place.
The 3 main reasons for wanting to do voiceover part-time
Fear One of the main reasons that people claim that they want to do VO part-time is because they don't think they can do it full-time. Or they think it's foolish or unrealistic to think that it's possible to make a full-time living as a voice actor. "It will be easier on my ego," they think, "if I just set lower expectations for myself from the get-go. And that way, if it takes a while for my career to get going, it will look like I planned it that way." There's nothing wrong with trying to save face. But there is also power in naming what you want. Few people accidentally fall into their dream situation. They say it. They write it down. They repeat it to themselves, no matter how unlikely it may seem to outside observers. And then they work their butts off to get it. But there are other, more virtuous reasons for wanting to be part-time, too.
Balance Not all reasons for wanting to do voiceover part-time are negative! There's a good chance that you want to do voiceover as a part-time gig because you already have some things going on that you don't want to lose. Perhaps it's family or a day job you enjoy. Maybe you don't need a full-time income, so it would be a burden to work full-time hours. I totally understand this. And if that's you, awesome. Just make sure you're not using balance as your "acceptable" reason to want to be part-time when you are really just afraid of admitting you're afraid to say you want to go full-time. I swear that sentence makes sense. And there's a third reason for wanting to be part-time.
Commitment Voiceover sounds like fun, right? So you take it out on a date, buy it dinner, and have a good time. Maybe you'll want to do it again next week, but you don't want the obligation of having to. Basically, you want to do voiceover as long as it's fun. And beyond that, you have no use for it. If this is you, here's a great resource for you. You can voice your brains out, have a good time, but not have to worry about a client reminding you about a deadline. There's nothing wrong with wanting to do voiceover for fun. Just know that you won't be bringing in a regular income (if any) with this approach. If you want to be a part-time voice actor, you need clients. But if you get too many clients, that will push you over the number of hours that you want to devote to work. However, whether you want to be part-time or full-time, there is work to put in on the front-end to get your business established so that you can start accepting clients. In this post, we talked about the reasons why you may be interested in being a part-time voice actor. But there are also practical aspects of what you need to do on the front-end of your business so that you can open your doors to all those lovely clients. Good talk! Carrie