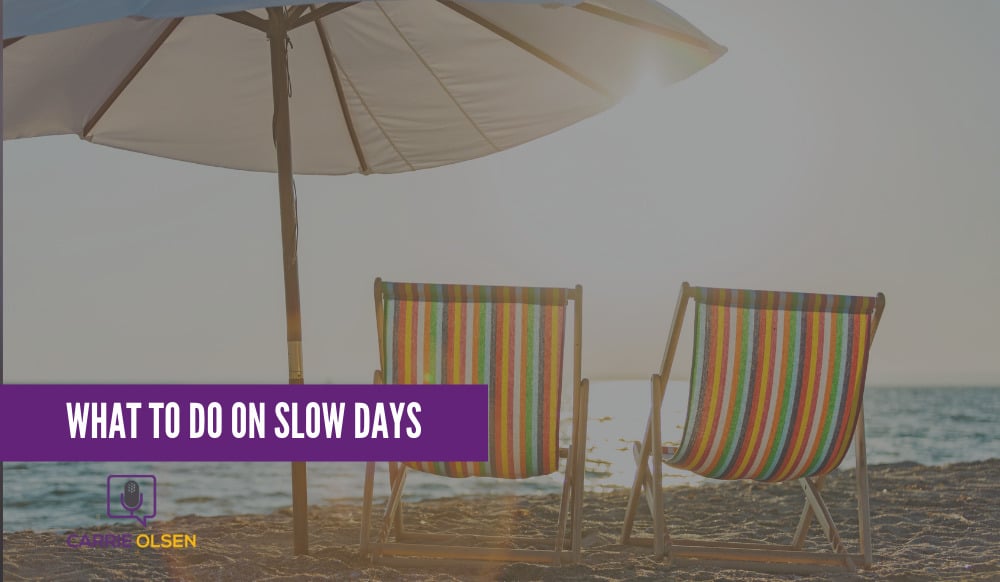 What to do on slow days
This past week wasn't one of my booking-est. I feel fortunate that the first quarter of the year as a whole has been great. But in this business, there are inevitably slow days. And sometimes... slow weeks.
Depending on where you are in your business, slow times will mean something different for you.
If you're just in it for fun
, slow days are no problem. You can take the day off, or practice recording some. For fun.
If you're just getting started
, there will be more slow days than busy ones. And the slow ones could be frustrating... Unless you know what to do with them, which I'll talk about a little further down in this post.
If you're pretty well established
, you should know what to do with your slow days. You'll audit different areas of your business. Look at your website, your branding, work with your coach, reach out to that new agent you've had your eye on, follow up on emails, etc.
You'll find plenty of administrative stuff to fill your time while you're not recording, like marketing and reaching out to clients, a lot of which will result in booking more work the next week.
And if you're making a comfortable (or more than comfortable) living with VO
, you might just use your slow week to spend more time with your family, relax a bit, take some time to intentionally not think about business, and make progress towards some non-work related goals.
I decided to not sweat it during this slow week. (Especially since I'm confident some of the auditions I turned in this week will likely turn into jobs next week.)
In fact, it worked out perfectly that one of my daughters was invited to a birthday party that happened to fall on Good Friday, when a lot of people were taking off work anyway. I got to spend a good deal of my day at a children's farmstead watching my girls laugh while feeding the goats and ducks.
But if you are just getting started, the slow days feel scary. They feel confusing. And they feel directionless.
"What am I supposed to do if there are no jobs to record?"
Here's a quick (non-exhaustive) run-down of things you can do in your VO business when things are dragging:
Beef up your marketing

Auditioning is NOT the only way to book VO work. In fact, it's possible to have a successful VO career without auditioning for every single job you book. I believe all voice talent, regardless of business stage, should know how to market themselves well. It's essential for getting sustainable traction that will lead to booking consistent voice over work.

Nurture your relationships

Notice I didn't just say, "network." Or "network more." Networking sounds so impersonal. Remember that your clients and potential clients are people, too. And the best way to do business is on a personal level. You wouldn't want to feel "networked", right? You want your clients and agents to treat you like a friend (or at least like a person) so do the same! Check in with your contacts, and/or work on developing new ones. Remind them you are available and ready for work. (You'd be surprised how many times I've reach out and the next thing you know I've got a job from that person. It's called TOMA... Top Of Mind Awareness)

Get a coaching session

Strengthen your voice over strengths and fill in the gaps. The best and fastest way to sharpen you skills is by working with a vocal coach.

Audit your sound

Is your equipment and studio setup good enough? Is your demo fresh? Does it show off your full range? Are you proud of it? How about your editing skills and editing software.

Listen to other people's work (and demos)

Keeping in tune with what sounds and styles are in demand *today* is important. The market goes through changes, make sure you are adjusting to the market. But don't just be another voice actor, think of ways to set you, your voice, and your business apart from everyone else.

Practice

Pretend like you just booked a killer job that you've been praying for, record it like it's real, go through all the steps and pretend like you're submitting it. Going through the motions will help when the real jobs start coming in.

Remember that slow days are part of what you signed up for

No one said this would be easy. Take this time to re-evaluate your "why." Remind yourself that you're in this for the long haul, and that it's going to take more than a few slow weeks to thwart your VO goals.
It's so important to have the mindset of an entrepreneur when you start a voiceover business. It's easy to spend a lot of time and energy on your performance skills (which are so important), but forget about the business side. Don't forget about the business side! (Marketing, networking, etc) A great voice is a requirement, now it's time to put yourself in a position to show clients what you can to and get booked!
If you're looking for some coaching to fill a slow season in your business, check out these
group coaching sessions
, taught by Alyson Steel. Would love to see you there!