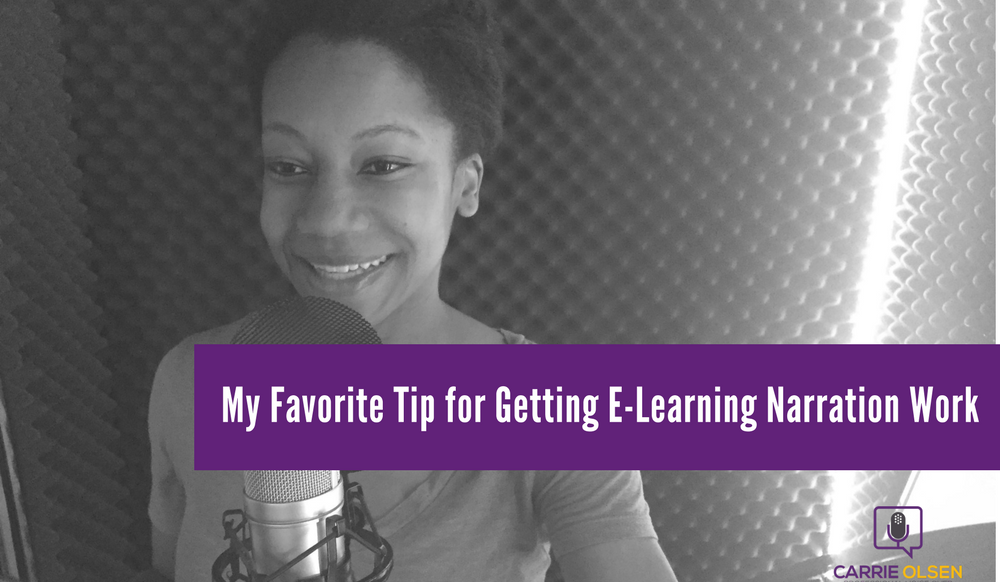 How to Book More Elearning Narration Voice Over Work, My Favorite Tips.
You might be surprised to hear this, but my best tip for booking more e-learning voiceover jobs has nothing to do with improving your voice skillset or making sure you do a good job of editing elearning narration work. These are essential skills to have, but they don't get you any closer to the people who can actually hire you.
Finding and booking work has everything to do with networking. Better networking = more quality work for you!
Interested in booking more e-learning #voiceover work? Don't miss my fave tip for getting e-learning narration work in this week's blog post!
How to Get MORE E-learning Voiceover Work: Network MORE.
One of the things that has continually made a huge impact on my business is networking. I have landed multi-thousand dollar projects because of it.
Networking can be extremely beneficial to your voiceover business, or at the very least -- to your life in general. When you go out and network with other people, you are opening yourself to opportunities that you wouldn't otherwise be exposed to if you stayed within your booth or your house.
Where to Network In Person
Voiceover conferences are a great place to network, especially if you do it strategically. More on that later.
The ultimate voiceover conference is VOAtlanta. It's the largest voiceover conference in the world, which can make the experience a bit overwhelming, but there is always a lot of great content, and even great people to connect with.
The conference is open to all voice actors–from new ones who have never hit record once to seasoned professionals who have been in the business for decades. So wherever you are in your voiceover journey, you will find a community there. If you want to get an idea about who's going to be there -- companies, agents, directors, producers, and voice actors -- you can follow and checkout updates from their page.
VO Atlanta has informational breakout sessions, as well as in-depth training sessions you can attend for an additional fee called X-Sessions. In 2020, I'll be presenting a breakout session on e-learning narration, as well as two X-sessions.
(Check the VO Atlanta website every now and then for updated information. There's a great chance I'll be attending and presenting in the future!)
My X-sessions will not only be informational, but all attendees will leave with tangible takeaways and personalized action items. They are such a great format because they allow time for personal workshopping and feedback. And since good marketing is so essential to booking voiceover work, it will be a significant part of my sessions.
Marketing Your Voiceover Business
Now, one of the things that you have to pay serious attention to–as mentioned above–is marketing, but not the sleazy kind. Marketing you can be proud of and feel good about.
Permission Marketing

"Permission Marketing is just like dating. It turns strangers into friends and friends into lifetime customers. Many of the rules of dating apply, and so do many of the benefits."
― Seth Godin, Permission Marketing: Turning Strangers Into Friends And Friends Into Customers
I use a lot of Seth Godin's principles about permission marketing. It basically involves me asking people "Is it cool if I talk to you about this stuff?" as opposed to bombarding people with messages. But I also think that there is a place for disrupting the normal communication flow. There has to be a point where you disrupt that and say, "Hey, are you going to hire me or not?". Of course, not with those words necessarily, but if you are only making friends with potential clients and never come out and say, "Is there a job for me here?" then you might be holding yourself back.
There must come a point where you put yourself out there and have the big ask. That will turn some people off. That will cause you to not get replies from some people.
But that will also get you voiceover work.
Marketing for the E-learning Niche
One reason why I think it's important to be talking about marketing specifically for the elearning niche is because there are a lot of courses, resources, and knowledge about marketing, in general.
When it comes to voiceover, for example, there are courses, articles, and programs about how to market for radio, TV, and other types of common voiceover work. But there isn't a lot, for voice actors in particular, on how to market to e-learning developers–people who are creating online training content who need voice actors for narration.
Because I used to work as an elearning developer before I got into voiceover (before I knew that voiceover was a thing in and of itself), I have some insider knowledge about how e-learning developers want to be marketed to, how to really get your foot in the door with them, and how to say the things that they're looking to hear.
My Favorite Tip for Getting Elearning Narration Work
It's a process that I call "reverse engineering job posts."Because marketing to e-learning developers can be somewhat of a mystery, reverse engineering job posts is really valuable.
How it Works:
When you go to a job board, instead of looking for jobs for voice actors or companies who are in need of voice actors, you search for companies who are looking for someone who will hire, manage, and work with voice actors.
The big idea: If a company is looking for a person who will manage voice actors, there's a good chance that that company has a project in the works for creating some sort of online content, and there's a high chance that they will need voice actors in the near future. So that company would be a good one to reach out to and say, "Hey, do you happen to have a need for voice actors?" And you might find yourself in a situation where they go, "My goodness, we were planning a huge launch in a couple of months of a new product! We're going to need voice actors for it. How did you know? This is perfect timing!".
You've put yourself in front of them right before they're going to be reaching out to potential voice actors. That makes you first of the pick, always. This puts you "top of mind" when it comes time for the production company to hire voice talent. It could also elevate you to hero status because you've likely saved the person in charge of searching for and hiring voice talent a ton of time and effort.
Now, it doesn't always work like that; it's not a sure-fire thing, but it's a great way to find companies who are growing and who potentially will be working with voice talent.
There's a lot more to consider here. Your pitch and follow up, your demo, your voice technique and recording skills, and pricing all play a huge part in getting hired. And you've got to get every part right.
The Foolproof Formula to Having a Successful Voiceover Business
5-Star Performance Skills + Seamless Workflow + A Solid Marketing and Follow-Up Plan = Highly Successful Voiceover Business
I cannot stress this enough.
Voiceover work is not a job, it is a business.
Your talent and skill are your products (or service). You deliver based on an efficient and organized workflow. And you market yourself (your voice) like crazy.
A lot of people get into voice acting for the art and fun of it. Don't get me wrong. That part is also important. You have to have that passion for it. You have to love it. You have to want to do your best and to be creative. But... even if you have that creative piece, if you don't have the business piece in place, then your business is only going to be mediocre at best.
So make sure you seriously consider yourself a business owner. Treat yourself like a business owner -- and not just a freelancer, or a contractor, or a part-timer. That will help you feel more empowered, more in control, and more strategic in taking your business in the direction where you want it to go. Having a limiting mindset will confine you to the belief that you have to bid less than everyone else for higher chances of getting booked.
The beauty of being a business owner is that you can really propel yourself to the top if you treat it like a business. So start acting like a business owner pronto, and free yourself from the employee mindset.
Related article: How to book more consistent e-learning voice over work.
Do what the other guys aren't doing: Book more e-learning voiceover work with these performance tips
If you want to make e-learning narration a primary source of income, there are a few essentials you need to have in place: a solid marketing and follow-up plan, a seamless workflow, and 5-star performance skills.
I put together 9 tips that are focused on the
other
side of your e-learning business -- which is performance. It's one of the essentials to having a successful voiceover business.
This guide has really cool tips about how to nail your performance -- one of them has to do with drinking a beer, so if that's something you enjoy, go ahead and
pick up this resource
!
Want to listen to this, instead of reading? Here's an audio clip for you!